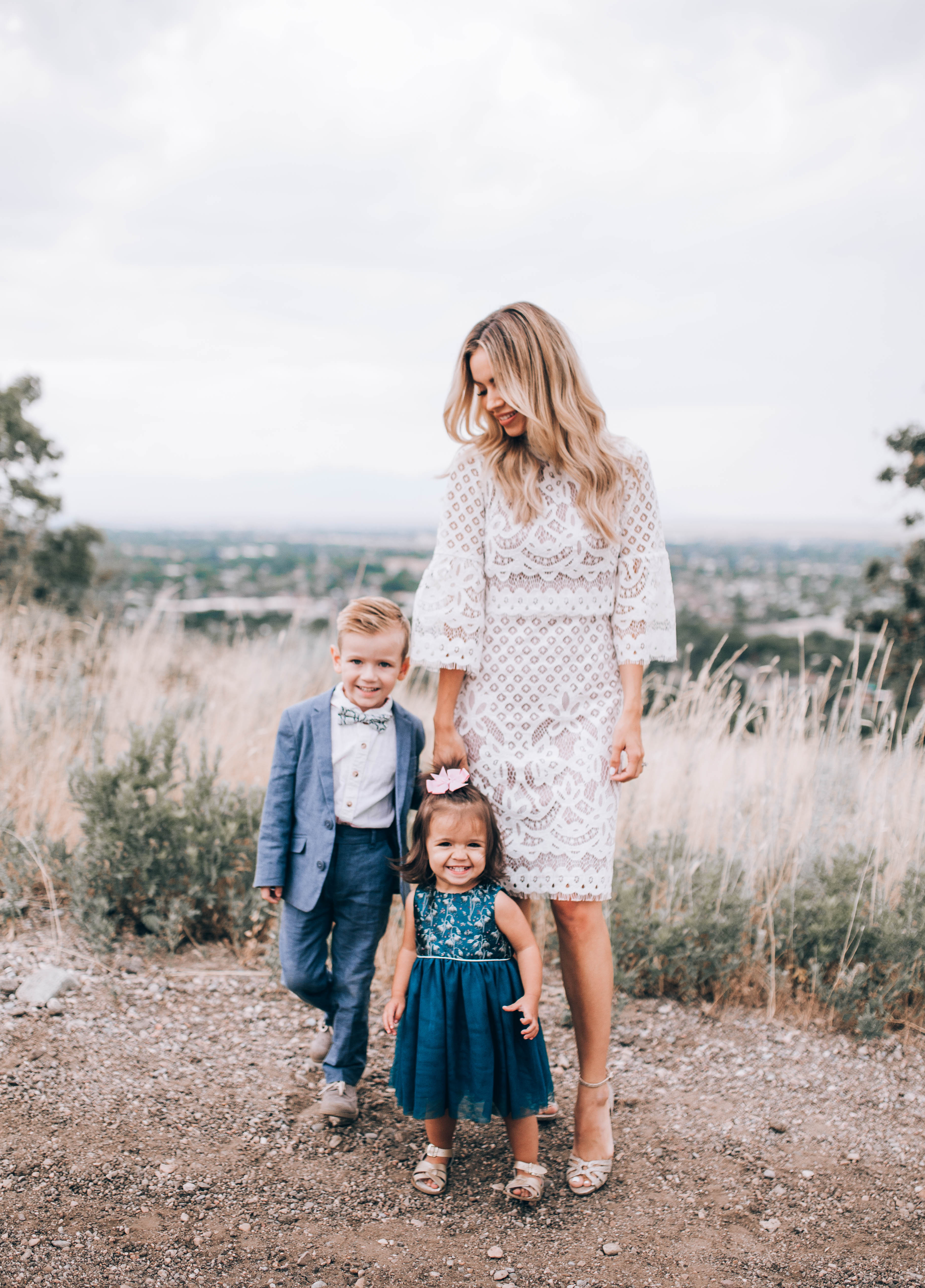 "A Sunday well spent brings a week of content," is one of my favorite quotes and something our family really tries to live by.  Getting to church every week with two young children can tend to be tricky but everything always goes more smoothly if we have our church outfits laid out the night before.  Coming up with cute new church outfits every week is a puzzle that I love to solve! And having "Sunday dress" pieces for summer comes in handy when we have weddings or baptisms to attend.
 Summer Church Outfits
For Women


Now that I'm a mother of two littles, comfort is key on Sundays.  I still want to look put together and cute but I need to be able to chase Tatum down the hallway or run Tru to the bathroom as quickly as possible.  I like to think of it as a compromise.  If I'm wearing a dress or skirt that is stiff or tight fitting, I will pair it with low wedges or flats.  If I'm wearing a loose maxi dress, maxi skirt, or something with a fit and flare silhouette, I will pair it with a cute pair of high heeled shoes or wedges.
A few key pieces that I like to keep in my summer wardrobe for church outfits are a perfect black dress in a flattering silhouette (love this one, too), a fun floral printed skirt that I can pair with basic tunics or chambray blouses, and a denim jacket that can be thrown over top of any look for when the church services get a bit chilly. Bonus points for bright tassel earrings or a statement ring (or really any colored jewelry) to add style to your Sunday look.
For Men

Finding great summer church outfit ideas for men is more difficult as they don't have as many options to experiment with, but still doable and fun! Sid typically wears a white shirt under one of his suits (navy and dark blue are fun for summer), a matching belt and shoes, and then can experiment with his tie pattern.  I really love diagonal stripes in patriotic colors or a small floral print for summer.
For The Kids


My favorite summer church outfit ideas to put together!  Dressing kids for church is fun because there isn't as much of a dress code for them and they look so adorable in anything you put them in! Tiny wingtips and mary janes?  Come on.
For Truman, when he's in the mood to be dressed up I like to put him in a cute grey suit with a white shirt to match his dad.  Bow ties are so fun for the little boys, especially at summer time.  At my sister, Macaily's, wedding this May we paired his suit with white converse and it looked so cute!  If he's not really in the mood to be in a suit (and that happens pretty frequently),  I like to dress him in a skinny fit pair of chinos or dark denim with a patterned short sleeved button up shirt and leather or suede chukka boots or boat shoes.  This is a more casual look but it's nice for busy boys who don't have the patience for a suit and it still looks polished and put together.
For Tatum, all the cute dresses all the time!  We've put her in leotards with tulle tutus and we've put her in floral print baby doll style dresses with huge bows.  I love it all!  I have a lot of fun choosing a cute headband or hair bow to match her dress.  Her most worn Sunday shoes are gold ballet flats and gold saltwater sandals. They go with everything!